The potential first-round NHL draft pick talks about his journey through the game, staying active during the pandemic, and getting ready for the next step
There was a lot of uncertainty heading into this past season. Would I be
able to play with my team? Would other teams be able to play? How long
would the rinks stay closed?
With the pandemic causing so many things to be up in the air, it's crazy to
think that the NHL Draft is already here. Sure, it looks a bit different
compared to the normal in-person draft we're used to, and we are missing
out on events like the NHL Combine and the CHL/NHL Top Prospects Game. But
at the end of the day, we were still able to have a season and participate
in a draft this year, so I'll definitely take that.
I don't think I've been able to take in the full meaning of the draft yet
because nothing has really happened, but I think a lot is going to change
when I get picked. It's going to be pretty exciting for me and my family.
We've been waiting for this moment for quite some time.
I'm from Edmonton and I'm fortunate enough that Oilers Entertainment Group
has put together a draft night event for myself and my teammate, Sebastian
Cossa, at Rogers Place. Having the opportunity to do the draft from there
is going to be pretty cool. It will almost feel more like a normal draft
experience because we're going to be at a rink, so I'm looking forward to
it. Another bonus about doing the draft this way is that a lot more of my
family will be able to attend – probably 15 or so of my family members are
going to be there on draft night. There's obviously a lot of people who've
done so much to help me get to this day. They've been with me through this
whole process and now they can all share this moment with me.
🎥 At number 5 in the @NHLCentralScout final rankings, Dylan Guenther is the top-ranked WHL skater ahead of the 2021 #NHLDraft.

We focus in on the Edmonton forward in the fifth and final installment of our Road to the Draft Player Profile series.#MeetTheFuture | @EdmOilKings pic.twitter.com/5ykrmNCbpX

— The WHL (@TheWHL) July 22, 2021
Hockey has been all I've ever known. It's always on TV and people are
always talking about it, so it was something I was kind of born into. I
started to play at a young age, and I fell in love with the game. I played
some other sports as well – I was pretty good at soccer, I ran cross
country and I competed in the 400 metres and 800 metres in track and field
as I got older. But hockey always came first in my life. It was just
something that I looked forward to every single day I was going to practice
and still look forward to now.
Being the super competitive person that I am, I always pushed myself to be
the best I could be. That was instilled in me at a very young age – even in
the classroom, I always wanted to get the highest marks in my class. When I
started playing hockey, that competitiveness translated into my game. I
played with a lot of the same teammates throughout minor hockey and created
some great friendships. Obviously as you move on, the group gets a little
smaller, but we always worked super hard on the ice and they pushed me
every day. We had good teams growing up, so I was always practicing against
the best players. All of us were competitive kids that wanted to be the
best, and I think a lot of credit for the player I am today goes to them.
One of my first career goals in hockey was to make Team Brick Alberta. I
would always go to watch the Brick Tournament at West Edmonton Mall and I
really wanted to be a part of it myself. When I made the team at 10 years
old, it was a big confidence booster. That's when I thought for the first
time that I could do something in hockey and take my game to the next
level. From there, my career really took off.
Growing up in Edmonton, I would also watch the Oil Kings play all the time.
They had a bunch of super successful teams over the years and there were a
lot of players that I looked up to. I wanted to be just like them some day.
I was selected No. 1 in the WHL Draft by the Oil Kings and playing my first
game in that jersey was a big moment for me. I realized younger players
would start to look up to me and I could have a big influence in the
community.
The pandemic caused a lot of uncertainty. The rinks were closed for a while
before my season with the Oil Kings started, so I had to be creative to
find ways to continue to get better. I did a lot of that work on my own in
my basement. Shooting has been a strong point for me and I have worked hard
on it. We have a pretty good area in my basement for me to shoot pucks, and
I'm still down there every day shooting and trying to improve my shot even
more. Outdoor rinks were also great for me. area few guys who were around
Edmonton and my former coach would meet up outdoors to run practices on the
ice and play games to stay in shape. The extended off-season also helped me
work on my overall strength. I was always a taller, lankier kid so I have
struggled to put on weight and size. There is still a long way to go, but I
was able to really improve on that and get stronger.
Once the start of the WHL season was announced, I was prepared and ready to
go. I had a great season with the Oil Kings and our team had a great year,
too. But a career highlight for me was being a part of the roster at the
IIHF U18 World Championship. You always dream of wearing that Maple Leaf
and playing for Team Canada, so it was very exciting to make the team.
Winning gold with them is everything I could have asked for. It was an
unreal experience, and I will never forget it.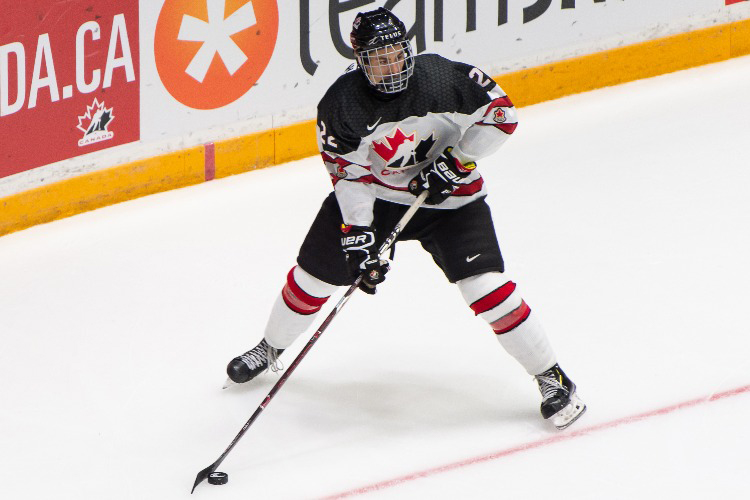 If I looked back to when I was a kid, I'd be shocked to know where I am
today in hockey. I think everyone's hockey dream is to get drafted into the
NHL and play in the league. This is a really surreal moment for me and it's
something I've dreamed about ever since I started playing the game.
The best advice I can give to younger players is to always work hard and
stay humble. Growing up, I always wanted to be the best on every team I
played on, and I worked super hard at it. That's part of what made me
successful today, just never being satisfied with where I'm at.
On draft night, I know I'm going to be excited. There will probably also be
a little relief since it has been a long process and something I've worked
toward for many years. I don't really have my heart set on anything that I
want to happen that night, just because I know that anything can happen.
But I know my work is not complete when the draft is over. There's still a
lot that has to be done afterwards in order to eventually make the team one
day and I'm ready to put in that work. Wherever I end up going in the
draft, I'm going to do whatever I can to help my team win.